Introduction
I've been wearing the Apple Watch Series 4 for a year now and I am happy to report that this device is astoundingly useful. I am not a watch guy. I never wore a watch and did not think I would be happy with one or that a watch would prove useful in any way. I was wrong. I'll try to briefly cover here many of the features I have found outstanding, the preconceptions I found to be largely unfounded, and what I don't like about the watch. My conclusion after 1 year wearing this device: the Apple Watch is the most amazing sophisticated advanced consumer device ever created.
Background
I bought an Apple Watch primarily so I could add it to the device targets for my app development. I wanted to be able to develop apps for the Apple Watch. Apple's Xcode development environment makes this extremely easy.
However, once I started wearing an Apple Watch I gradually became more and more impressed with the comfort, convenience, capabilities, and features this device provides. I added the watch to my cell plan so I can send and receive calls and text messages on my watch without an iPhone nearby. That meant I could go anywhere with just my watch and still send and receive texts and calls. That alone would have sold me on its utility. There is so much more to this watch though. Let's look at what I found.
My Apple Devices
Prior to purchasing an Apple Watch I was previously steeped in the Apple ecosystem. I owned an iPhone, a Mac Mini to serve up my media library, and a Mac Pro as my primary desktop/workstation/development environment. I also owned an Apple TV. I purchased a Series 4 Apple Watch in November of 2018. Note that all versions of the Apple Watch thus far released must be paired with an iPhone in order to manage the device and provide some capabilities and features. If you do not own an iPhone then you cannot setup, configure, and manage an Apple Watch. That's it's biggest drawback
My Apple Watch
I bought the Apple Watch Series 4 GPS + Cellular, 44mm Space Gray Aluminum Case with Black Sport Band. In addition I added the watch to my existing cellular plan with Verizon. Note that if you wish to receive and send text messages and phone calls as well as stream music or other data over your watch when your iPhone is not nearby then you must have a cellular plan for the watch. You will also need the Series 4 watch or later to use it in this manner away from the iPhone. I was able to purchase the Series 4 watch at a greatly discounted price as Verizon had a deal going at the time and the price is further reduced when adding it to a cell plan.
My iPhone
I paired my Apple Watch with a 256GB iPhone Xs Max and added it to my Verizon cellular plan with unlimited data. I also setup Apple Pay with an Apple Card as default payment card.
Preconceptions
Usability
The biggest preconception I had, and the one that surprised me the most, was that the watch face would be too small to be useful in any meaningful manner. This proved to be false – the watch face on the 44mm Apple Watch provides a more than adequate surface for all interactions I have engaged in. I cannot speak for the usability of the smaller sized Apple Watch. Apple has designed the various interfaces for the watch extremely well. In addition to the Force Touch screen that detects how hard you press on the watch, you can press or rotate the digital crown, press the side button, use any of several gestures, and simply raise your watch to wake it or activate Siri without the "Hey Siri" voice activation. All of these ways to interact with the Apple Watch provided me with a surprising degree of usability.
Text Input
I was skeptical the Apple Watch would be able to provide me with much in the way of text input. There is no keyboard, how would I be able to type in a message? Again, I was surprised and impressed with the text input capabilities the Apple Watch provides. Yes, it's laborious to enter text manually. To do so you need to draw the letters, one by one, on the watch screen in the appropriate application (e.g. Messages). However, Apple overcomes this limitation by providing surprisingly good speech to text conversion. In addition, applications can provide their own canned text to select from. The Messages app has a pretty good and fairly extensive list of messages you can select from and add to. In the year I've been using the watch I've found the text input capability to be sufficient for my needs. I typically use one of the canned text message responses on my watch when away from my iPhone and if I really need to compose a longer message the voice to text conversion works remarkably well. Impressive.
iPhone Tether
Everything I had read at the time said the Apple Watch must be tethered to an iPhone in order to be used. I quickly found out this is not true, especially for an Apple Watch with cellular. Yes, you must have an iPhone to initially setup the Apple Watch, to perform some configuration, and to manage the watch via the Watch app on the phone. However, almost all of the Apple Watch functionality remained available when I was out-of-range from my iPhone. The only times I find I need the iPhone are when I need to perform some management of the watch, need to take a photo or video (the watch has no camera), or want to stream videos. I can send and receive calls & texts, read my email, stream Apple Music, listen to podcasts, check my calendar, and do all the things I cover below without the iPhone anywhere near. I frequently leave my iPhone at home or in the car since I really like the comfort and peace of mind not having a phone to worry about all the time brings me.
Features I Really Love
Stream music from my Apple Watch to a Bluetooth speaker or earbuds
Unlock my Apple Mac Mini and Mac Pro automatically
Easily authenticate in many applications on my Mac Mini/Pro
Remote control of iPhone camera
Customizable Watch Faces & Complications
Automatically analyze my sleep with Pillow on the Apple Watch
Easily control my Apple Home devices with my watch
Convenient and easy access to Siri
Integration with Apple Pay
Workout tracking, steps counting, heart monitoring
The Health app is amazing

Consolidation of data from iPhone, Watch, & 3rd Party Apps
Wide range of health metrics
Analyze long-term trends
Integration with many health monitoring devices
Record an electrocardiogram using the ECG app
Count calories consumed and burned

Polite, convenient, gentle, customizable Haptic Alerts
Let's look at these in a little more detail.
Streaming Music
I'm an Apple Music subscriber. I can stream music from my Apple Music library in the Apple iCloud to my Apple Watch and from there to a Bluetooth speaker, my car stereo, or my wireless earbuds. No iPhone necessary as my watch uses cellular data to stream the audio from Apple Music and bluetooth to the paired speaker(s). This is one of the primary ways I use the Apple Watch – streaming music while I workout, take a walk, lay on the beach, drive my car, etc. It's pretty great. Podcasts too.
Unlock My Macs & Apps
One of the more recently added features of the Apple Watch is the ability to configure your Mac devices to allow the watch to unlock the Mac. I use my Macs in spurts, maybe 15 minutes at a time frequently throughout the day. They go to sleep and I have to re-authenticate to wake them. I was typing in my credentials dozens of times a day. Now, with the Apple Watch, after authenticating the first time when the Mac boots I no longer have to enter my login credentials to wake the system. It just wakes automatically when it detects my watch. Many applications that require authentication also can use the watch but this requires me to double click the side button. Note that this is just one cool feature added to my watch recently – Apple is always rolling out new features for their devices so the thing you bought continues to grow in value over time as you own it and update it. Thanks Apple!
Remote Control iPhone Camera
This is a really useful, often overlooked feature of the Apple Watch. I can position my iPhone for a photo or video, move myself to where I need to be in the camera view, and use the watch on my wrist to view the camera viewpoint and control the camera remotely. Some selfie sticks and iPhone tripods come with a Bluetooth remote to trigger the shutter but none of them have a display that shows you the camera view and none I have seen have the shutter delay or other controls the Apple Watch offers – flip the camera, turn flash on/off, turn HDR on/off, zoom, adjust exposure, or toggle Live photos.. The Apple Watch also allows you to bring up the Camera app on the iPhone and camera remote on the Watch by simply telling Siri something like "Take a photo" or "Take a picture". Really nice! I wish the Apple Watch could be used as a remote for other devices. Well, it can for iTunes/Music and Apple TV but I'd like to see the remote control capabilities of the Apple Watch extended to my other smart home devices like my Logitech webcam, Pop, and Harmony devices.
Customizable Watch Faces & Complications
The Apple Watch includes a wide variety of watch faces to select from. Each watch face is customizable and each can be configured to display one of many complications. An Apple Watch complication is a widget that displays in a specified area of the watch face and allows you to quickly and easily access the application it is associated with. There are complications to show you the date, battery life, activity rings, and more as well as 3rd party complications developers can add to their Watch app. When you customize a watch face you can select which complications are displayed on that face and where they are displayed.
Here is a screenshot of my primary watch face, based on the Infograph watch face: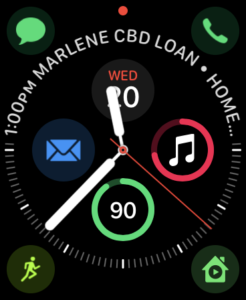 On this face I have configured the Infograph template to display a black background with 8 complications – Messages, Phone, Workout, HomeRun, Calendar, Mail, Music, and Battery. From this single watch face I can send and receive phone calls & messages, read & delete & reply to my email, listen to my Apple Music streamed to a connected Bluetooth speaker, start and monitor a workout, check battery status for the watch and connected Bluetooth devices, and trigger any of my HomeRun scenes which act as widgets controlling my HomeKit devices. Swiping down I can view my notifications and swiping up displays the Control Center widgets.
Multiple watch faces can be customized and added to the watch. Swiping left and right takes me to my alternate watch faces. This allows me to configure additional complications available at a swipe. Here are two of my alternate watch faces:
These allow me to quickly access complications for my Activity Rings, Weather, Pillow sleep app, Maps, Shazam song identifier, Decibel level in my ambient environment, temperature, and a solar dial tracking the position of the Sun.
Not all complications are available for every watch face and some complications can only be placed in certain areas of a face. The faces available for the Apple Watch and the complications each face supports are described in this Apple Support document.
Sleep Analysis with the Pillow App
There are many apps for the Apple Watch. Your favorite will depend on the use cases you most require/desire. My favorite app for the watch is the Pillow app which monitors and analyses your sleep patterns. It's one of the capabilities of the Apple Watch that is kind of mind blowing. Many of the Health features are pretty amazing – a small device on your wrist can do an electrocardiogram and monitor physiological data revealing your sleep patterns. I'm impressed.
HomeKit Accessory Control
This is one of my favorite capabilities of the Apple Watch – integration with the Apple HomeKit accessory control. I use the HomeRun app for the Watch which has a Complication I place on the Watch Face. This allows me to easily launch HomeRun by simply tapping the Complication on my Watch. In the Home app on my iPhone I've configured several Scenes for the various HomeKit devices in my Rooms. For example, I've got Scenes to turn my Eve Smart Outlets on and off as well as Scenes to control my Philips Hue lights. In the HomeRun app on the iPhone I've added those Home Scenes as easily recognizable colored icons that trigger the action of the associated Scene. I also configure the HomeRun Complication there so I can use it on my Watch Face. So now I've got access to my Home Scenes via a single tap on my wrist. So convenient! HomeRun is a winner.
Convenient and Easy Access to Siri
The Apple Watch can be configured to query Siri by either listening for "Hey Siri", by pressing the Digital Crown, or by simply raising your wrist and speaking. This is by far the most convenient way to query Siri and I really like eliminating the "Hey Siri" trigger. I've also configured my Home Scenes triggers to respond to Siri shortcuts so I can use Siri on my Watch to control my HomeKit accessories. I also have shortcuts configured to use SSH to execute shutdown commands on my Mac Pro and Mac Mini so I can use Siri on my Watch to shutdown these systems. And I have SSH shortcuts to start and stop my cryptocurrency miners on my Lubuntu Linux systems, also triggered via Siri on my Watch. So, I have a fairly sophisticated and diverse set of operating environments and devices controlled easily with my Apple Watch. Pretty sweet.
Integration with Apple Pay
The Apple Watch is tightly integrated with the Apple Ecosystem. One such integration I find very useful is the ability to easily access Apple Pay on the Watch. To use your default card, double-click the side button and hold the display of your Apple Watch within a few centimeters of the contactless reader. An alternate card can be selected by swiping left or right on the Watch Face and selecting the card you want to use. You can also pay for apps or within apps using your Watch and Apple Pay in a similar manner. To charge my car at one of the free charging stations around town I simply have to wave my Watch close to the charging station and double click the side button. Every time I do this I feel like I am living in the Future.
Health App, Workout Tracking, Steps & Heart Monitoring
The Apple Watch is an advanced health and fitness device as well as a sophisticated body monitor. I did not think I was going to use a watch to enhance my health and fitness but I pretty quickly added daily health and fitness activities to my daily routine. I am not a fitness kind of guy. How did Apple make a consumer device that changed my lifestyle to incorporate daily fitness routines? I simply have to wear my Watch when I take a walk, ride my bike, workout, or engage in any physical activity. I can bring up the Workout app and tell the Watch what type of activity I am engaging in or simply let it do its normal monitoring. Apple has done quite a bit of research to analyze what types of activities burn how many calories at various heart rate levels and so on. There are quite a few types of workouts to select from and each has been calibrated by Apple to provide accurate analysis of your calorie burn and other physiological metrics. I even use my Watch to calculate calorie burn during sex! Unfortunately, Apple has not researched sex as a workout activity type so I just tell the Watch I'm doing Yoga 🙂 During walks, runs, bike rides and other activity that traverses terrain the Watch also monitors distance, rate, elevation, and other metrics to calculate energy expended during the activity.
Consolidation of data from iPhone, Watch, & 3rd Party Apps
The Health App on the iPhone and Apple Watch consolidates data from a variety of input sources. Permission to read and/or write data must be given to 3rd party apps. Apple has integrated the Health App with a wide variety of 3rd party devices and applications. For example, I have a Withings Smart Body Analyzer that measures my weight, body mass index, body fat percentage, and heart rate. Measurements made on my Withings scale are stored in the Withings Health Mate app which I have given permission to read and write data to the Health App. Apple Health can also integrate with devices to measure blood pressure and other physiological metrics. It can also be configured to access your health provider to obtain your health records, immunization history, lab results, medications, conditions, clinical vitals, allergies, and so on. Health also integrates with the Pillow app to record your sleep analysis. It integrates with the Hearing Test app to record your hearing test results. It integrates with the Lifesum app to record and analyze your daily diet and provide calorie count, protein count, carbohydrate count, yada yada yada. Over time it will provide you with trend analysis. So amazing.
Polite, convenient, gentle, customizable Haptic Alerts
The Apple Watch can be configured to use Haptic Alerts, a gentle tapping on your wrist, to provide an alert when various actions occur (text message, activity ring closed, alarm, calendar event, and so on). This is so much more polite and convenient than having your phone make annoying sounds. The Haptic Alerts are customizable.
Miscellaneous Value
The Apple Watch built-in apps offer significant value. The Battery app on the Watch not only tells me the percent charge remaining on the Watch but the charge levels of any connected Bluetooth devices, e.g. my earbuds and earbud charging case. When I play music using the Music app on the paired iPhone, the Apple Watch automatically brings up the Music remote control app on the Watch allowing me to control the volume with the Digital Crown, pause/play, skip tracks, select a different playlist, and more. It can monitor the decibel levels in my environment, show me the weather conditions and forecast, allow me to read and reply to my email, identify what song is playing in the bar using Shazam, display maps and provide directions, find people who are sharing their location with me, ping my iPhone to locate it, and much more.
What's Not To Like
Although I am quite impressed with the features, usability, integration, and convenience of the Apple Watch, there are some improvements and additional capabilities I would like to see.
Integration with a clip-on camera
Stream video from YouTube etc
Full developer API in WatchKit framework
Watch face with no watch
Better watch face coverage for complications
Add a "Favorites" and "Recents" to Dock similar to "All Apps"
Why no support for user-created watch faces?
More home automation control support (in addition to HomeKit)
More remote control capabilities for 3rd party devices
Reduced price!
Suggestions
For me, the larger size watch face (44mm) is a requirement. I've found it adequate in size but just so – the smaller face probably would not suit my needs. The larger size watch is not heavy at all and wears quite comfortably.
Buy a nice band for your watch. The default watch band is comfortable and not bad but the comfort and convenience of a nicer watch band does not cost that much and I found it to be really worth the few additional dollars. I purchased a red sandalwood stainless steel band with a double button butterfly clasp on Amazon for $36 and I really love it. The butterfly clasp design makes it very easy to slip my watch off and on and the double button unlocking of the clasp ensures it does not accidentally slip open. Shop around for a band that suits your needs – there are a wide variety designed for all kinds of use cases.
Buy a nice charging station for your devices and a mobile charging device for your Apple Watch. The Apple Watch comes with a charging cable but no stand for the cable so I purchased a couple of charging devices to easily recharge my Watch at home and away. At home I use the Press Play ONE Dock which includes the Beatdrop wireless bluetooth speaker, stand for the Watch, lightning connector for my iPhone, and additional quick charge USB port for other devices. For mobile use I bought a wireless Apple Watch charger with built-in magnetic charging module (no charging cable needed).
I charge these (and all my devices) using power banks charged at home with an HQST 100 watt 12 volt monocrystalline solar panel or away from home with an Instapark Mercury portable foldable 27 watts solar panel. I use the Instapark solar panel to charge my devices directly using the USB ports in the panel's pocket. I charge  a small portable power bank as well as a Suaoki 200Wh Solar Power Station. using a 100 watt 12 volt monocrystalline solar panel available from HQST for $84. The Suaoki can charge all my devices quickly as well as provide 110V AC power for my Press Play ONE Dock, lights, and small appliances.
Check out the Pillow app for the Apple Watch. This is an app that analyzes your sleep patterns and integrates with Apple Health. The free version works quite well but I liked it so much I bought the premium version which unlocks some additional features etc. Try the free version and see if you like it. Pillow can be used by laying your iPhone near you in bed but to access all the features and get a more accurate reading you need to wear your watch while you sleep. I don't do this every night, only every so often, and I do not find it at all uncomfortable. Pillow has an automatic mode where you do not even have to open the application or do anything – the Apple Watch records your physiological data in the Health app and Pillow reads that and somehow determines when you are sleeping and in what sleep states you are in at what times. It's kind of unbelievable – I'm somewhat skeptical but I figure it does give me a ballpark idea at worst. Also, you can turn on the recording feature to see if you are snoring or what noise you make while you sleep (not available in automatic mode). I love this app.
Get some nice comfortable earbuds and pair them with your watch. Go on long walks every day and listen to your favorite music while you improve your health and enjoy the neighborhood. I was very skeptical that a watch would actually change my lifestyle and improve my health but I was way wrong. I would say most of Apple's focus on the design of their watch was as a fitness and health device. They have gamified health, activity, and workouts in a pretty easy adaptable manner. Anyway, get some earbuds and enjoy the freedom of not having to carry anything in your pockets or hands or backpack or purse – just you, your watch, some earbuds, sunglasses, a cap and some shorts. It's fun! I initially bought the 2019 Ultimate edition of wireless earbuds from Xmyth. The charging case for these also serves as a power bank holding 3300mAh that can be used to charge other devices as well as the earbuds. You can get these on Amazon currently for $45. However, I decided to upgrade to the newly released Jabra Elite 75t Earbuds for $180 after realizing I really like earbuds and wanted a higher quality fit and sound. They all seem to have a 30 day return policy so try them out and find a pair you like for a price that fits your budget and requirements.
Conclusion
The Apple Watch is, in my opinion, the most amazing sophisticated advanced consumer device ever created. Owning an Apple Watch actually changed my life. I was not expecting that. In fact, I fully intended to simply use it as an application development target and nothing more. Apple seduced me!
The excellent integration of the Apple Watch into the Apple Ecosystem and 3rd party devices and applications really elevate the watch's capabilities, usefulness, usability, and value.
Disclaimer
I am not affiliated in any way with any of the vendors or companies mentioned in this review nor do I make any money off of the sale or distribution of any of the products mentioned here. I was not provided with any products or promotional material – all of the products reviewed or recommended here were purchased by myself through normal retail channels.